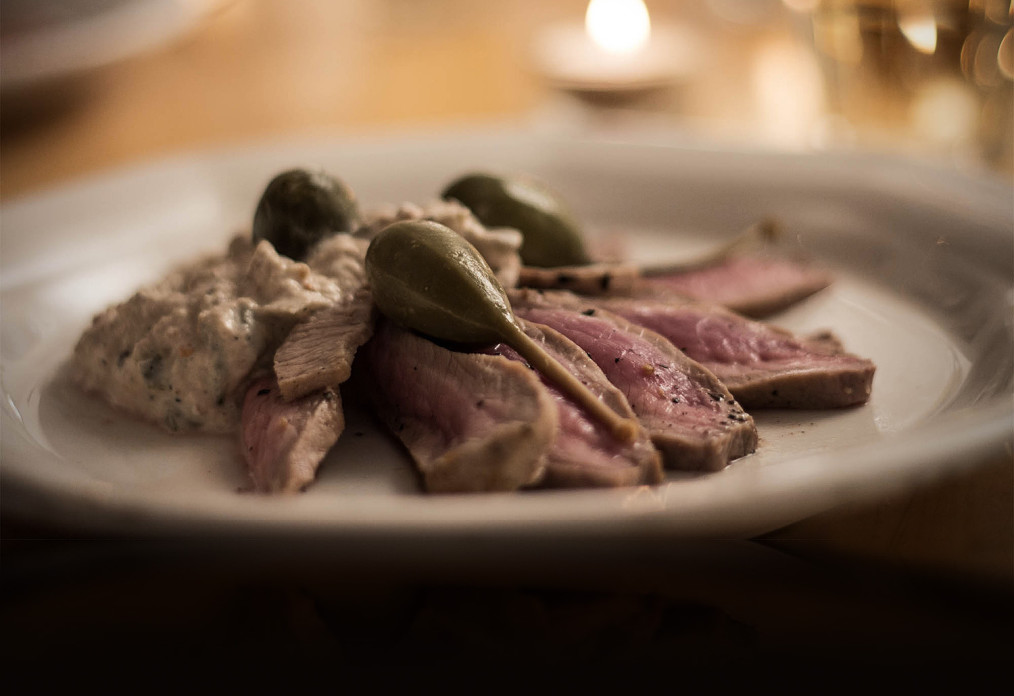 Vitello Tonnato

I remember discovering this dish in a magazine when I was a young teenager. Cold meat? A liquefied sauce made from tuna and eggs? It was unlike anything else I knew at the time and I was instantly hooked. Who knew that food could be so different and delicious (I grew up a long time ago in a small Greek town, far, far away, so some allowances should be made to my teenage mind).
Vitello tonnato, an appetiser of cold veal slices smothered in a creamy tuna sauce, is a traditional recipe from the Piedmont area, in the Northwest of Italy. Its central valley is engulfed by the Alps and provides the ground for a rich agricultural production, its lion share being the raising of cattle. It should come as no surprise, then, that beef and veal feature heavily in the cuisine of the region.
Ingredients (for 4 people)
500gr of veal (eye-round or kogel)
1 onion, peeled
2 bay leaves
2 cloves of garlic
Rosemary
1 stalk of celery
1 carrot
500ml of dry white wine
5 anchovy fillets in oil
Balsamic vinegar
Lemon juice
2 boiled eggs
6 tbsp of extra virgin olive oil
100gr canned tuna
2 tablespoons capers (rinsed)
We can start by cooking the meat. Ideally, you should find a nice piece of veal round (a muscle running along the upper part of the leg), but if that proves difficult to purchase, you can try a piece of turkey breast of similar weight. The cooking time should be a little bit shorter and the flavour will be a little milder, but the sauce will make up for that.
Place the meat into a pot that fits is snuggly and add the onion, celery, carrot, garlic, bay leaves, a sprig of rosemary, a few black peppercorns, and a teaspoon of salt. Add the wine to the pot as much water as necessary so the meat is covered. Place over medium/high heat and, when it comes to a boil, lower the flame to the lowest setting and simmer covered for about 1 hour. Allow the meat to cool down in the cooking broth and then remove. Cover in plastic wrap tightly and place in the fridge until you are ready to serve.
Strain the broth to remove all vegetables and set aside, while you prepare the tuna sauce. In a blender, place the hard-boiled eggs, anchovies, tuna, 1 tablespoon of capers, a few drops of balsamic vinegar, and a few drops of lemon. Blend for a few seconds and slowly add the oil and some of the cooking broth until you have a rich, creamy sauce, thin enough to pour, but thick enough to sit atop the sliced meat.
When you are ready to serve, cut the meat across the grain in 4mm slices and arrange on a large platter. Spoon the sauce on each slice and garnish with the remaining capers, a few slices of lemon, and some more anchovies. Serve as an appetizer accompanied by a crisp white wine.