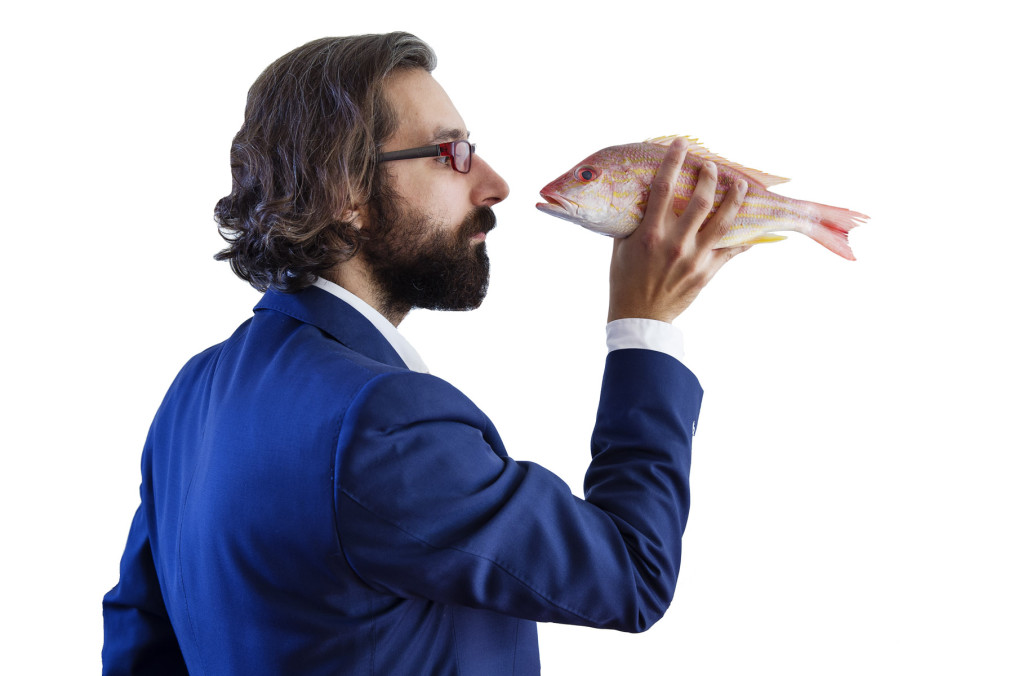 Seabass Ceviche
Fish is one of the best ingredients to cook with. Its flavour is subtle and requires little effort or preparation to bring out. Ceviche, a dish of raw/marinated fish and seafood from the Americas, is a perfect example of this approach. Fresh fish, marinated in citrus juice and other seasonings, served simple and unadorned. Because it can be prepared in advance and its flavours are vibrant and fresh, it makes the perfect appetiser for a dinner party.
Start by asking your fishmonger to fillet and skin one or two sea bass (zeebaars) or sea bream (dorade). Kees de Groot on the Vismarkt is your man for this. His stand has consistently the freshest fish on the market and he and his colleagues are always ready to help. In the end, for four people as an appetiser, you want about 600gr of meat. At home, rinse it under running cold water and pat dry. Cut in 2cm cubes and place in a large ceramic bowl, while you prepare the marinade.
Mix the juice of 7 limes with that of half an orange, along with half a teaspoon of salt and half a red chilli (medium hot), seeded and sliced finely. Pour over the fish and toss to combine thoroughly. Cover with a plate or plastic wrap (not aluminium, which doesn't like the acidity) and refrigerate for 30 to 60 minutes, depending on how 'done' you like the fish. The acid in the lime juice cooks the fish, which turns opaque and firm. I prefer it closer to the 30 minute mark, but the choice is yours.
While the fish marinades, prepare some garnishes and seasoning. Slice 8 small red radishes very thinly and set aside. Dice half a small red onion and place it in iced water for 10 minutes (which removes some of the bright harshness of the onion), before draining. When you are ready to serve, take the fish out of the fridge, drain and reserve the juice. Mix the fish with the onion, radishes, and a small bunch of chopped coriander leaves. Pour over some of the juice, check and adjust the seasoning, adding more salt if necessary, and serve over small lettuce leaves. You can serve the rest of the milky sauce (poetically referred to as leche de tigre) in a bowl for everyone to use as they please. A crisp white wine or light beer can accompany the dish.
Notes: This recipe first appeared in the Universiteitskrant of the University of Groningen, on October 30th, 2013.
Main photo by Jeroen van Kooten