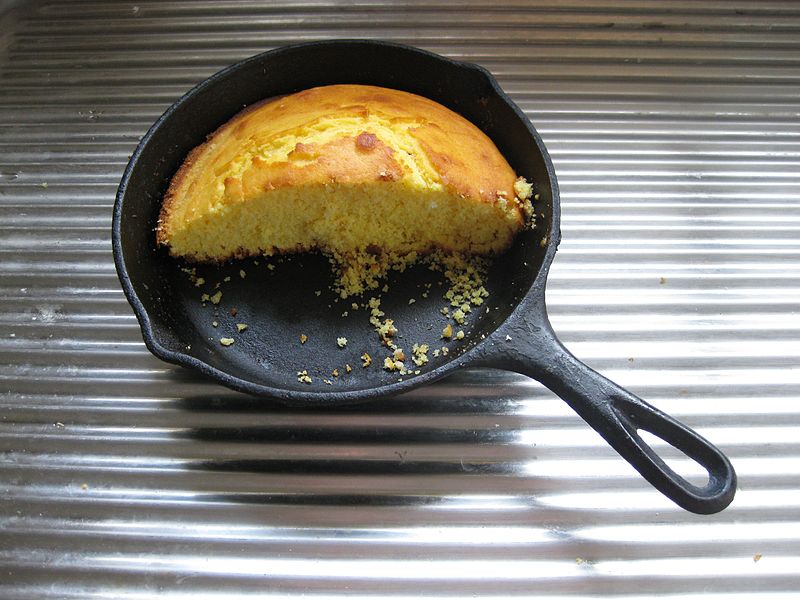 BBQ Series Pt2 – Cornbread and Shredded Sprouts
This is the second in a series of articles about American-style barbecue and we continue today with two more side dishes, cornbread and shredded Brussels sprouts with bacon. They both work very well with all types of barbecue and are also happy accompanying any kind of roast meat, for that matter. In the next column, I will share with you my recipe for tender, juicy pulled pork and my very own Kansas City-style barbecue sauce!
CORNBREAD
Ingredients (8 servings)
1 cup polenta (not instant)
1/2 cup flour
¾ teaspoon salt
1 tablespoon baking powder
½ teaspoon baking soda
2 eggs
1 cup yoghurt or buttermilk (karnemelk)
½ cup milk
1 tablespoon honey
3 tablespoons unsalted butter
Start by preheating the oven to 200˚C. Place a 25-30cm cast iron pan or heavy baking dish in the oven while you prepare the batter. In a large bowl, mix together all the dry ingredients (the polenta, the flour, salt, baking powder, and baking soda). Whisk well to distribute the ingredients evenly. In a separate bowl, mix all the wet ingredients: Beat the eggs, then add the yoghurt (or buttermilk), milk, and honey. Pour the dry ingredients into the wet and stir to combine well, but do not overwork.
Remove the pan from the oven, and add the butter into it. Move the pan around so the butter melts quickly and it covers the bottom and sides of the pan. Working quickly, pour all the batter into the hot pan and place in the oven. Bake for 25-35 minutes, until a toothpick inserted in the centre comes out clean. The bread should be golden brown at that point. Take it out of the oven and let it cool for 10 minutes (or completely) before slicing and serving.
SHREDDED BRUSSELS SPROUTS WITH BACON
Ingredients (4 servings)
100gr diced smoked bacon
400gr Brussels sprouts (or any other kind of cabbage)
1 teaspoon smoked paprika
¾ teaspoon salt
Extra-virgin olive oil
A handful of cooked chestnuts, diced (optional)
This is my favourite way of preparing Brussels sprouts and it works really well as a side dish to barbecue. It's very quick to cook, so the only time investment is in preparing the ingredients. Start by thinly slicing the sprouts (or any other kind of green cabbage you may find, since sprouts are not always in season). You'll cook them very quickly, so slicing them as thinly as possible is important here.
Heat a large frying pan over medium heat and add 2 tablespoons of olive oil and the bacon. Cook this until the bacon is starting to become crisp and then raise the heat to high. Throw in all the sprouts and toss to coat in the oil. Continue cooking over high heat for a couple of minutes until the sprouts are becoming wilted and a few are getting brown. You can add a quick splash of water or white wine, if it looks like some moisture is needed. Add the chestnuts, if you are using them and toss to combine. Season with the paprika, salt, and plenty of black pepper.
Note: This article appeared on the Universiteitskrant, on May 15th, 2013. Images are courtesy of Wikimedia.org