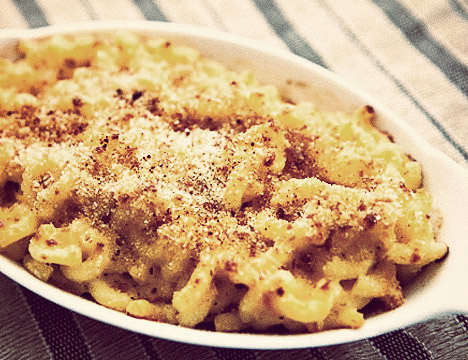 BBQ Series Pt1 – Macaroni and Cheese
Now that the days are longer and starting to be filled with sunlight once again, it is natural to think about outdoor cooking again and for the barbecues to make their first appearance. In most places around the world, the word 'barbecue' is used to describe cooking over an open fire or gas grill; typically a fast, high-heat method. In the USA, however, the word is used to describe a much slower way of cooking that uses an indirect source of heat (typically a wood or charcoal fire which adds smoke to the process) and produces very complex flavours and aromas. Barbecue varies greatly between states, with the four main regional styles being those of Kansas City, Texas, Memphis, and the Carolinas. Over the next couple of months, The Epicurean will feature a series of articles dealing with American barbecue, starting with some typical side dishes and then moving on to cooking the meat at home and making the accompanying sauces.
Ingredients
400gr macaroni
4 tablespoons butter
4 tablespoons flour
1lt milk
1 tablespoon Dijon mustard
400 grated mixed cheese of choice (e.g. Gruyère, Emmentaler, Gouda, or Cheddar)
1.5 cups breadcrumbs
50gr grated Parmigiano-Reggiano
The dish we're making today, macaroni and cheese, can be served as a hearty side dish next to barbecue, or as a main course next to a green salad (the amounts mentioned here make 8 or 4 portions, respectively). Starting with the pasta, macaroni (elbow shapes) are of course the obvious choice, but any short, hollow (such as corkscrews) or open (such as shells) shape will do well. Cook the pasta in well-salted boiling water until a minute or two short of being al dente, so it finishes cooking in the sauce. While the pasta cooks, prepare the sauce.
In a large saucepan, melt 3 tablespoons of butter and add the flour. Whisk over medium-low heat until the flour becomes lightly golden (about 2-3 minutes) and then add the mustard. Raise the heat to medium and slowly add the milk, whisking constantly until all the milk is incorporated and there are no lumps. When the sauce comes to a boil, turn the heat off, add the mix of cheeses, and whisk until the sauce is smooth and glossy. When the pasta is ready, add it to the sauce, taste and add salt if necessary.
Preheat your oven's grill (or the oven to the highest temperature) and butter a large ovenproof dish (or individual ones for each diner) and transfer the pasta and all the sauce into it. Mix the breadcrumbs with the grated Parmigiano-Reggiano and sprinkle over the pasta. Cook under the grill for 3-5 minutes until the breadcrumbs are golden brown and the sauce is bubbling. Allow the dish to cool for a few minutes before serving.