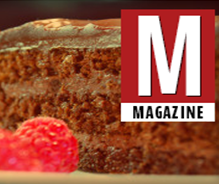 (mostly) Flourless chocolate cake
A
quick glance at the history of The Epicurean will confirm one thing: I don't cook desserts very often. This is not to say that I do not like eating them; quite the contrary, in fact. Either I avoid making them for fear of eating them too quickly and too frequently, or, more likely, I find working with dessert recipes too fussy, too prescriptive in amounts and timings. Let's correct all of that today, with a delicious, easy to prepare recipe for chocolate cake.
Chop 200gr of the best chocolate you can find in small pieces and melt it gently with 200gr butter. To do so, you can microwave it in short bursts of 30 sec until it is done, stirring between each burst, or use a bain marie. A bain marie, or double boiler can easily be created by placing a large heatproof bowl over a saucepan which contains boiling water. The water should not touch the bottom of the bowl; rather the steam gently heats the bowl and its contents, maintaining a constant moderate heat, ideal for melting chocolate. Once the butter and chocolate are combined well, stir in 225gr sugar and whisk until it is melted into the mixture.
Remove the bowl from the heat, add a pinch each of cayenne pepper and cinnamon (this is optional), and leave it cool for 5 minutes. Resist the temptation to dip your fingers in the chocolate. Add 5 eggs, one at a time, and whisk well to incorporate. Finally, add 1 tablespoon flour and stir thoroughly until the batter is smooth.
Pour the mixture in a buttered cake pan, approximately 20cm in diameter, preferably one with springform sides. You can scale the recipe up, if your pan is larger; the mixture should reach about 3cm up the sides of the pan. Bake in the centre of an oven preheated at 190˚C for 20 minutes. At this point, the centre will still be a little jiggly and the cake quite wet. That's the stage I like, but if you prefer a cakier consistency, leave it in the oven for a couple more minutes.
Let the cake cool in the pan for ten minutes and then remove onto a plate to cool completely. Serve in thin slices with a small spoonful of crème fraîche and a leaf of mint or a few raspberries for decoration.
Notes:
Serves 6-8
Cost: €1 per person
This article was first published in the Universiteitskrant on the 3rd of April, 2013. Click here for the original