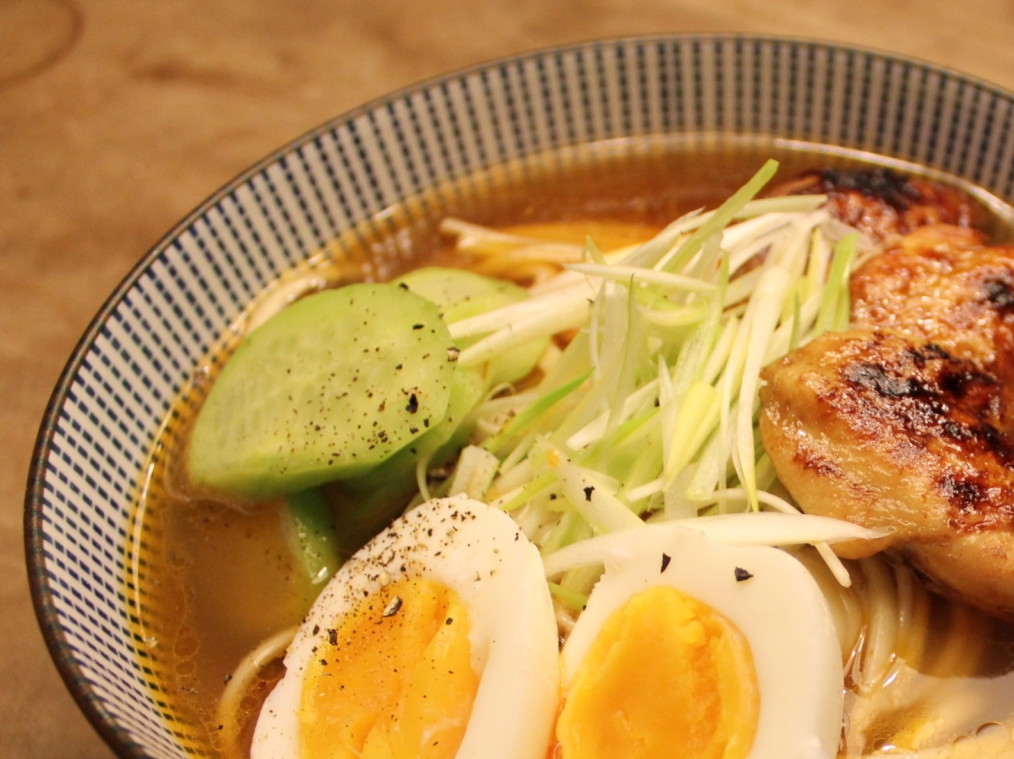 Ramen v1.0
When I put together the recipes for this column, I have three main criteria: it has to taste good, it has to be affordable, and it should be relatively easy to put together. With today's recipe, I'm telling you upfront that I am sacrificing convenience for amazing taste. Not that this is a difficult recipe; it just takes a little longer than usual. So, get into your cooking zone and let's get started with making homemade ramen, with everything made from scratch, except for the noodles. Ramen is a Japanese dish of noodles served in a broth with a variety of toppings. The three key parts (noodles, broth, and toppings) vary from region to region and the Japanese have elevated this simple dish to something truly magical.
We start by preparing the broth. Place 1.5kg of chicken wings, 0.5kg pork ribs, 2 medium onions cut in 4, and 4 medium peeled carrots in a roasting tray, sprinkle with 1 tablespoon each of paprika, cayenne, smoked paprika, and sugar. Season with salt and drizzle with a little vegetable oil. Place the tray in the oven and roast in an oven preheated to the highest temperature for approximately 30 minutes, until the meat and vegetables are well-browned. In the meantime, add about 6 litres of water into your largest pot and bring to the boil. Place all the contents of the roasting tray into the water and turn it down to a very low simmer. Add 2 black cardamom pods, a 5cm piece of smoked bacon, and 1 star anise and simmer for about 1.5 hours. When it is ready, scoop the meat gently into a bowl and the carrots and onions into another. Place one egg per person in the hot broth (with the heat off) and leave for exactly 7 minutes. Take them out and set aside.
Allow the meat to cool down and prepare it for the soup. With the wings, remove the skin and bones from all of them except for 2 wings per person. With those, gently pull the bones out, leaving the wing with the skin on and intact. Cut the ribs in individual pieces. We will not use the bacon for the soup, so reserve it in the fridge and use it later for a sandwich. Make a glaze with 1 tablespoon each of honey and soy sauce, 1 teaspoon of sesame oil, and a few drops of chilli oil. Mix it until smooth and coat the reserved wings and ribs and leave in the fridge to cool down. As topping, make a quick pickle: peel half a cucumber and slice in 5mm slices, diagonally. Sprinkle with a teaspoon each of sugar and salt, and add a tablespoon of rice vinegar. Leave this in the fridge for about one hour before using.
To assemble, in the bottom of a deep bowl place a few slices of the reserved carrot, 3-4 green beans sliced thinly, some chicken meat, and a tablespoon of soy sauce. Top with cooked ramen noodles (NOT instant; to cook, follow the instructions on the package) and ladle in the hot broth. Grill the marinated wings and ribs under a very hot grill until caramelised and divided evenly between the portions. Add the peeled eggs, cut in half, a few drained pickled cucumber slices and a small handful of spring onions cut into thin matchsticks. Serve with a cold beer and slurp your way into nirvana.
Serves 8 for about €3 each
Note: this recipe first appeared in the Universiteitskrant on February 21st 2013 and is my basic version of ramen. To learn more about the different styles of ramen, have a look at the Rameniac's guide here.
-t