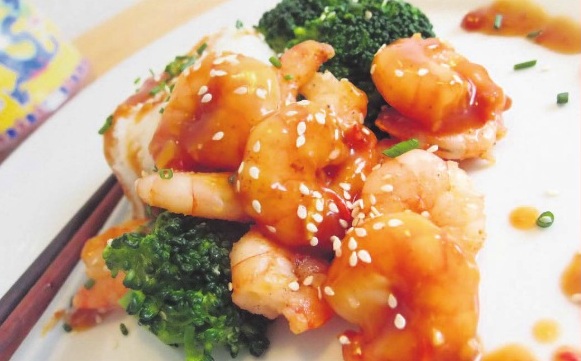 Sichuan Chili Shrimp
I have been on a quest recently to understand regional Chinese cooking a little bit better, mostly because I have been craving good Sichuan food and haven't found much, locally. To speak of "Chinese food" is about as meaningless as to speak of "European food" or as undiscriminating as to speak of "Italian food". Certainly, there are common threads that run within those cuisines, but the regional variations are too big to ignore, too deeply-rooted to avoid. The food from the Zhejiang Province in Eastern China, for example, is much less spicy than what is usually found in the Sichuan province, cleaner and fresher in flavour and aroma. Sichuan cooking, on the other hand, is bold and chilies are used with confidence. Today, we explore a popular dish from the region, Sichuan chili shrimp (辣子蝦).
This is a fast, wok-based recipe, so it is important to assemble all ingredients and have them at the ready. For two people, start by rinsing 500gr of large, raw, and shelled shrimp. Pat them dry with kitchen towel and let them dry thoroughly. If they are wet, they will steam rather than fry when they hit the wok. Finely chop a 3cm piece of ginger and two large cloves of garlic and set aside. Take two spring onions, remove the roots and hard, dark green ends and cut coarsely into 1cm slices. In a bowl, mix 2 tablespoons ketchup and 1 heaping tablespoon of douban djan. Douban djan (豆瓣酱) is a sauce made out of chilies and fava beans and features heavily in Sichuan cooking. You can find this in most oriental stores as "chili bean sauce", Lee Kum Kee being a frequently-seen brand.
When you are ready to start cooking, season the shrimp with salt and pepper and mix them with 1 beaten egg white and 1 teaspoon of corn starch (or plain flour). Place a wok or large frying pan over high heat and add 3 tablespoons of vegetable oil. When the oil is hot but not smoking, add the garlic and ginger, stir for a few seconds and add the shrimp. Mix or toss over high heat for 1 minute and add the chili sauce and ketchup mix. Continue mixing for another minute so all shrimp is coated in the sauce. Add 50ml of water and wait until the sauce comes back to the boil and thickens. Mix in the spring onion slices and take off the heat. Taste and add salt or a pinch of sugar to adjust the balance of the dish. Serve over plain white rice with a drizzle of chili oil.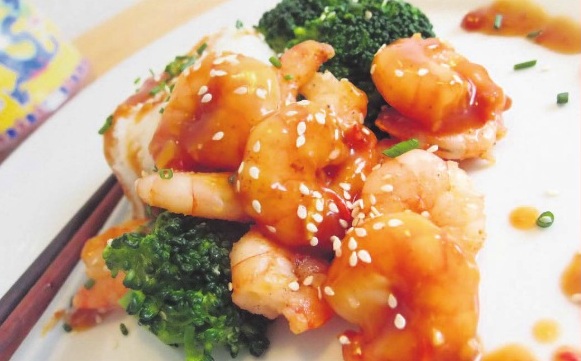 note: this recipe and photo appeared this week in The Epicurean column in the UK.