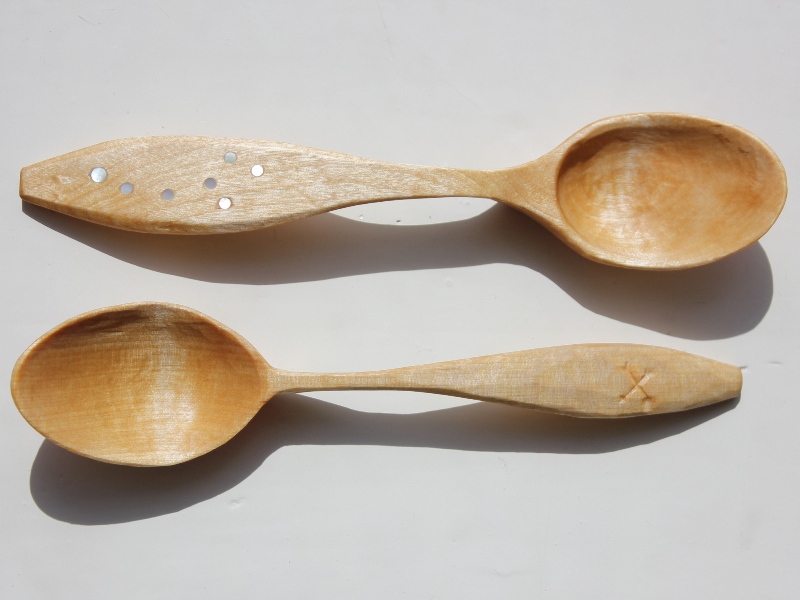 A pair of Spoons
The summer has been too short, this year. Maybe it's because the academic year ended late for me, or maybe it is because we never really had much sunshine in Groningen this year. Maybe it's just that we've have too many irons in the fire. New house, young child, full-time jobs, tables to build, food columns to write, research projects to supervise, spoons to carve… The list is endless. Not that I'm complaining. As intense as the year has been, it has also been incredibly fulfilling and rewarding.
To celebrate the end of the year and, more particularly, the work of two groups of students I supervised during their bachelor research projects, I have completed two new spoons out of birch. I carved them out of two spoon blanks Del Stubbs included as part of a spooncarving set I bought from him recently. The two knives in the set, a Slöjd knife and a hook knife, are beautifully made. Very well-balanced, they sharpen easily and stay sharp for a long time. I heartily recommend them; they are a joy to use (you can read a review of Del's knives at the Village Carpenter).
The spoons are finished with a mix of linseed oil, beeswax, and carnauba wax. One of them has a crude crossbones design carved into it (maybe "easy-going" is a better term than "crude" 🙂 ), the other is decorated with mother-of-pearl dots in the form of the Little Dipper. Both motifs have their symbolic significance, but we'll leave that story for another time. For now, I hope you enjoy the image gallery below.
Which one do you like best?
-t