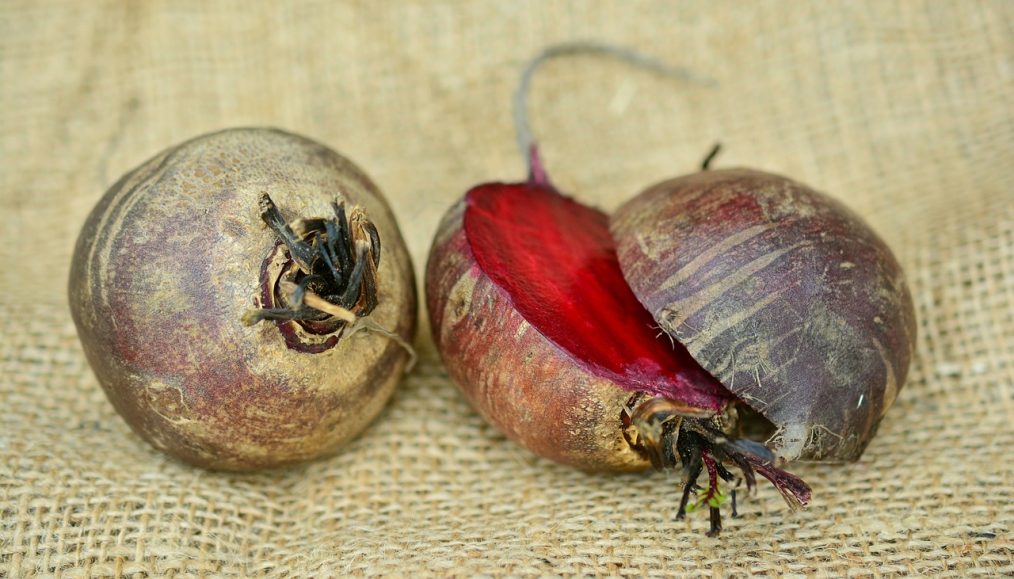 Beetroot Risotto
A good risotto is an exercise in balanced simplicity. A few simple ingredients are transformed into an unctuous dish; creaminess countered by a hint of acidity, richness balanced with clean flavours. The key player in this symphony is, of course, the rice. Two varieties are typically used in risotti, Arborio and Carnaroli. Both can be found at Basarz, the Italian deli on the Vismarkt. The short, starchy grains absorb liquid readily and become creamy as they are stirred frequently over the 20-25 minutes of cooking time.
For four people, start by peeling and quartering 4 small beetroots. Season them with salt, drizzle with olive oil, and roast in a 200˚C oven for 30 min, until lightly caramelised. Purée three of the cooked beetroot with some water in a blender and dice the fourth one, keeping them separate. In the meantime, bring 1 litre of chicken or vegetable stock to the boil and keep warm. In a large pot, melt a generous tablespoon of butter and fry a medium diced onion gently until soft, being careful not to let it brown. After about 5 minutes, add 350gr of Arborio rice and stir until coated in the butter. Season with salt and cook gently for a few minutes until the rice grains start looking translucent. At this point, turn the heat up to medium and deglaze the pan with 250ml of dry white wine. Keep stirring while the wine cooks down and is absorbed by the rice. The liquid should simmer steadily and not be at a rapid boil. When the rice has absorbed all the wine, add a cup of the hot stock and continue stirring. The frequent stirring releases the starch from the surface of the rice which combines with the stock and butter to make a very creamy sauce. This is the essence of risotto, so be patient and you will be rewarded amply. Remember that you have an open bottle of wine to keep you company in the meantime.
Keep adding hot stock as it evaporates, until the rice is cooked. The grains should be plump and soft, but with a very slight bite in the middle. If the stock is finished before the rice is fully cooked, you can add some hot water instead. At this point, add the beetroot purée and stir thoroughly.  The risotto will now be a beautiful crimson red colour, the texture should be loose, not stiff. Add one more tablespoon of butter and 150gr of grated pecorino or hard Dutch sheep cheese. Cover with a towel and let it rest for a couple of minutes, while you prepare a simple green salad.
In a small bowl, combine the diced beetroot and a couple of handfuls of rucola leaves. Season with salt and dress lightly with some extra virgin olive oil and balsamic vinegar. To finish the dish, stir the risotto one last time and serve on warm dinner plates. You know you have a good risotto when it relaxes and flows on the plate, rather than sit in a solid mass. Arrange a small mound of salad on top and serve immediately.
Notes:
This article first appeared in the Universiteitskrant in 2011