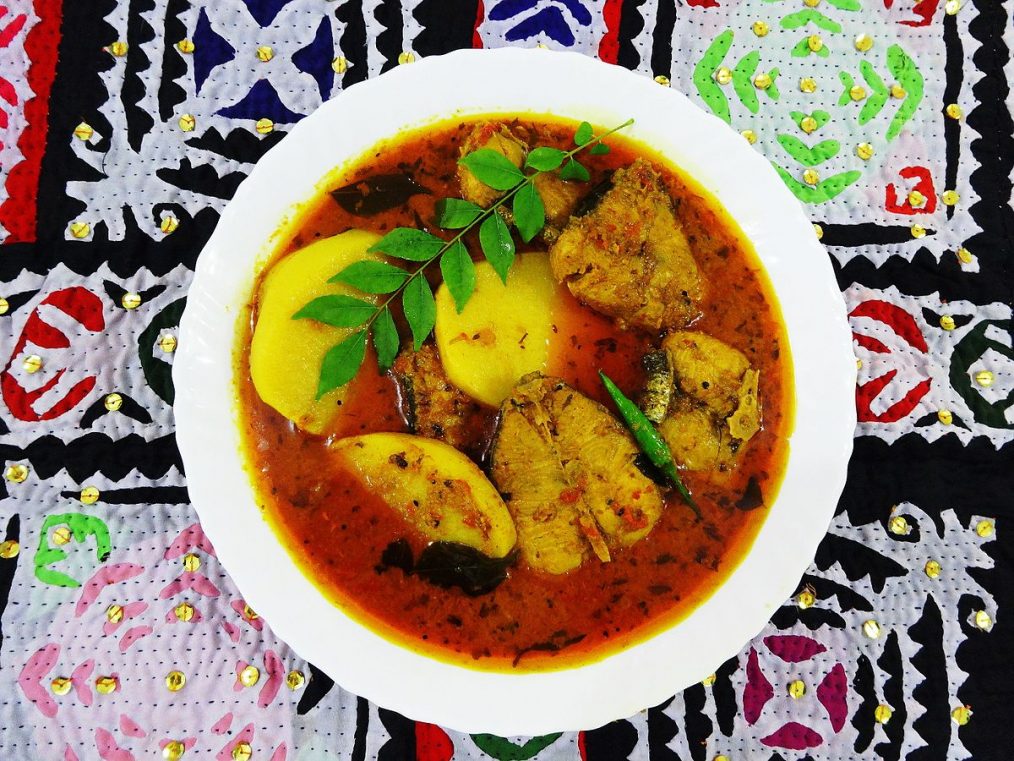 Methi Machi – Fish Curry
Fish curry was on my mind yesterday. I've had a cold for the past few days and I was craving for something spicy, but light and refreshing. I was reminded of a dish I used to order at my favourite Indian restaurant in Berkeley. The dish was called methi machi and its sauce is based on fenugreek leaves, methi in Hindi. I did not have any fenugreek leaves, so I adapted the recipe a bit, but if you find some (perhaps at Toko Melati on Gedempte Zuiderdiep, or the Amazing Oriental on Korreweg), add 4 tablespoons in the sauce, with the tomatoes.
Even though the ingredient list is not very long, by building up the flavours in several layers, we can achieve a dish that is complex and aromatic. Start by making a fragrant paste of spices. In a blender, add a piece of ginger (about 5cm long), 4 cloves of garlic, one small onion, a teaspoon each of turmeric, paprika, cumin powder, and cayenne, and as much chilli pepper as you like (about half a chilli is what I used), tasting a small piece of it so know how hot it is. Add a couple of tablespoons of vegetable oil and blend until smooth. You can add some water to bring the ingredients together if necessary. This paste forms the base of the sauce. Add some vegetable oil in a large frying pan and gently sauté a small chopped onion until translucent. Add the paste and fry it gently so the spices release their oils and the flavours intensify. When the paste looks dry and dark red in colour, add six tomatoes chopped finely. Season with salt and increase the heat to medium/high so the sauce bubbles steadily. While the sauce cooks, let's turn to the fish.
We are very lucky in Groningen to have so many great fishmongers at the market; they know and love fish and are always eager to help. I highly recommend Cees de Groot who sets up his stand every Friday and Saturday, but wherever you buy your fish, it is good to know a few things about picking the best. With fish, freshness is everything and there are several ways to know whether a fish is fresh. The first clues are the eyes. They should be clear and look healthy; opaque eyes are not a good sign. Secondly, the skin should be shiny and smooth, the flesh firm to the touch. My favourite way to tell if a fish is fresh is to look at its gills; they should be a bright red colour. If they look brown, choose another fish. Finally, give the fish a good sniff. Fresh fish smells clean, like the sea, and not 'fishy'.
For four people, you want about 700gr of one or two kinds of white fish. I chose cod (kabeljauw) and red snapper, but bream (dorade), seabass (zeebaars), and turbot (tarbot) are all good options. Cut the flesh in large pieces, wash, dry with a towel, season with salt, and add them to the simmering sauce. Cook for about 5 minutes, until they are soft, but not dry, and turn off the heat. The final layer of flavour is the squeeze of half a lime and a handful of chopped coriander leaves. Serve with white rice and some dry white wine.
Notes:
This article first appeared in the Universiteitskrant in 2011