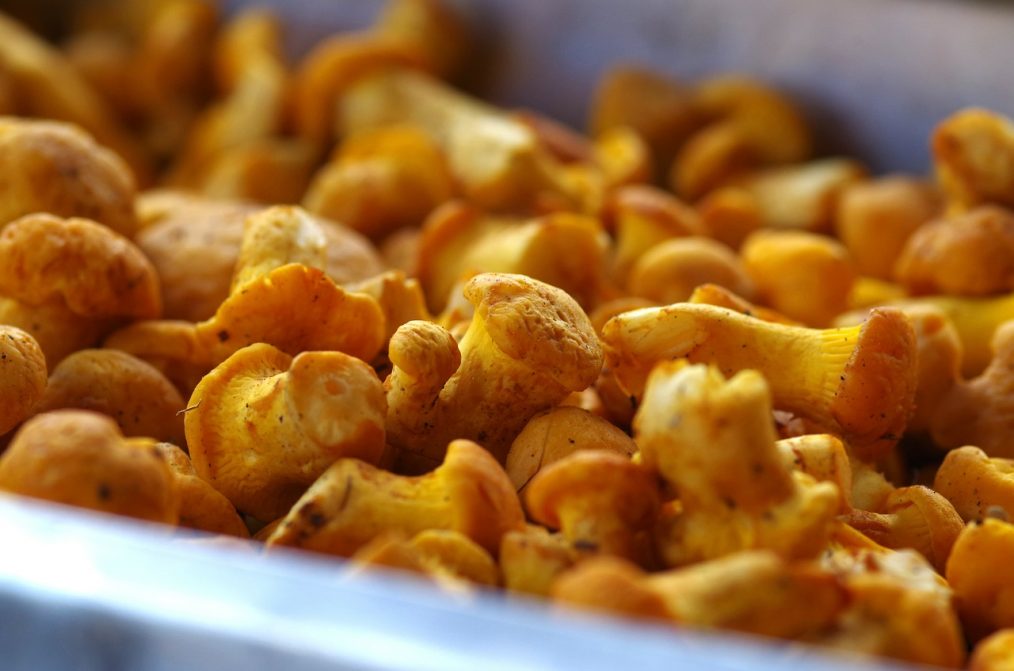 Fricasee of Chanterelles
Wild mushrooms are a wonderful treat, when you can find them. Since foraging for them is not an option for most of us, we are lucky to be able to buy them at the market throughout the year. Autumn is traditionally the main mushroom season, but there are also spring varieties (like morels), varieties that grow year-round, as well as cultivated varieties, so there is always the opportunity to cook with them.
In Groningen, the best place to buy your mushrooms is at the Heerlijk & Eerlijk organic and wild mushroom stand on the Vismarkt, every Friday and Saturday. Their selection is very impressive and they carry anything from button mushrooms to truffles and almost everything in-between. Today, we are interested in a variety called chanterelles (cantharellen, in Dutch), a beautiful yellow mushroom, with a nutty, earthy taste and firm flesh. You will need quite a few of them for this week's recipe, so Milja at the Heerlijk & Eerlijk stand has generously offered a 20% discount to Epicurean readers, if you buy more than 300gr of chanterelles. Just mention this column.
Start by preparing a gremolata, an Italian garnish of herbs, garlic, and lemon that you will use to finish the dish. Mix together a small cup of chopped flat-leaf parsley, a small chopped garlic clove, and the grated zest of a lemon. Set that aside, while you prepare the mushrooms. For four people, you will need 300gr of chanterelles. Start by discarding any obviously damaged parts or stems that are very woody and tough. I prefer to use a soft brush to remove any surface dirt, but you can also rinse them under running water. Just be quick and make sure you dry them with a towel afterwards. Mushrooms are like sponges and absorb water very quickly. Set a frying pan over medium heat and melt a tablespoon of butter with a little vegetable oil to prevent it from burning. Add a small finely chopped onion and season with sea salt. Cook this gently for 5 minutes until the onion is soft and translucent. Turn the heat to the highest setting and add the mushrooms. Toss them to coat with the oil and butter and let them sizzle undisturbed for a minute or two, while you season with salt and a generous grating of black pepper. Fry the mushrooms until they become golden around the edges and add 150ml of white wine. Let this reduce by half, add a small finely diced tomato, and toss quickly to heat through. From now on, you have two options: For an appetiser, divide to four plates, top with a tablespoon of the gremolata, and serve with slices of toasted baguette. For a main course, boil 400 gr of long pasta (fettuccine or linguine are best) until al dente and add them to the frying pan, along with a small cup of the pasta cooking water. The starch in the water helps bring the sauce together, as you quickly toss over a high heat. Divide this to four plates and top with the gremolata and some freshly-grated Parmiggiano-Reggiano.
Links:
http://www.heerlijkeneerlijk.com/
Notes:
This article first appeared in the Universiteitskrant in 2011