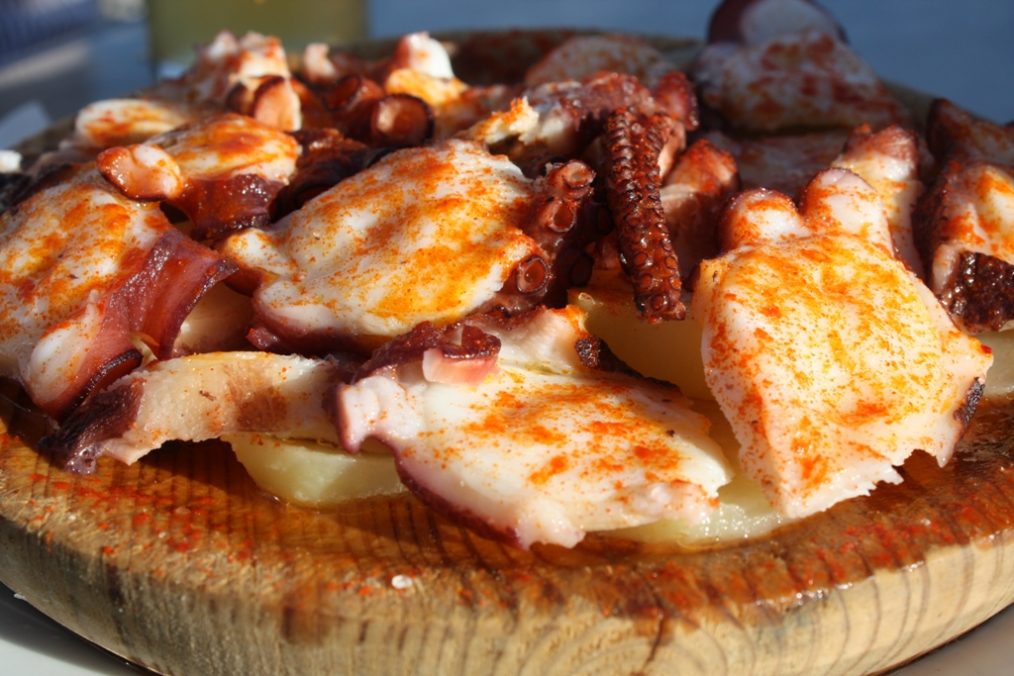 Pulpo a la Gallega
Maybe it's the recent spell of summery weather, maybe it's the return to grey skies and the inevitable wish to be in Spain, sipping red wine and eating tapas, but whatever it is, I found myself the other day thinking about a dish called pulpo a la Gallega, or Galician Octopus. Tapas have grown enormously in popularity in the Netherlands, evidenced by the number of restaurants either devoted to them, or serving them alongside other dishes. As with most types of ethnic food, however, something is often lost in translation; the dishes lose their authenticity and character. I want to change that, if I can, by offering a series of tapas recipes that are faithful to their origins. I start with octopus because it's one of my favourites, but also because it's such a scary ingredient for home cooks, even though it is easy to prepare. But first, a few words about tapas.
Tapas are small dishes eaten as accompaniments to drinks, typically wine. Their name, which translates to lids in English, is generally attributed to the habit of resting the little plates on wine glasses, as they are often consumed standing, but etymology is not our concern. Tapas are prepared in a variety of ways, from marinated, to cured, smoked, grilled, fried, boiled, or stewed. They can be served cold or hot, but they are always rich in flavour and unapologetic in character. Because of their simplicity, the quality of the ingredients is of paramount importance. Everything, from the main ingredients to the olive oil, has to be of good quality, so cutting corners is not a good idea.
For 6-8 people, you will need an octopus that is about 1kg. You can buy this at the market pretty much all year, for about €10 per kilo. You will also need about 500gr of white potatoes and some sweet paprika (get this at the wonderful spice stand at the market, while you're at it). Wash the octopus well and bring a large pot of water (with 2 tablespoons of vinegar) to a full boil. Holding the octopus by the head, dip the legs in the water. Hold it there for 10 seconds until the water stops boiling and remove it. Wait for the water to return to the boil and repeat this process twice more, before placing the whole octopus in the water. Leave it cook for 40-50 min, testing it with a fork to make sure it is tender. Turn off the heat and leave it cool inside the water for 30 min. In the meantime, peel the potatoes, cut them in 2cm slices, place them in a pot of salted water and bring to the boil. Turn the heat down to a slow simmer and cook for 15-20min, until tender but not falling apart. You are now ready to serve. On a plate or wooden board, arrange the slices of potatoes in one layer and top with the octopus legs, sliced. Drizzle some good extra virgin olive oil, dust with a generous coating of the paprika, and serve with some red wine. Salud!
Notes:
This article first appeared in the Universiteitskrant in 2011
Image by Javier Lastras, licenced under CC BY 2.0