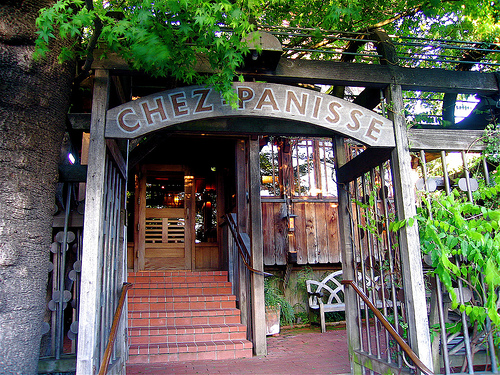 40th birthday
Birthdays have never meant very much to me, but this one is special. One of the most important restaurant in the history of American cooking, Chez Panisse, celebrates its fortieth year. Chez Panisse, the brainchild of Alice Waters, opened its doors in 1971 and was almost single-handedly responsible for the birth, or at least the maturity, of California cuisine. With a focus on good-quality, fresh, local, and seasonal ingredients, California cuisine is not about complexity, but about simplicity. It is all about making the most out of the best ingredients, allowing their flavours to shine and to combine harmoniously.
I have had the pleasure of eating at Chez Panisse on a few occasions; indeed I happened to live right around the corner of the restaurant, in a neighbourhood called the Gourmet Ghetto, where the highest crime was serving or eating bad food. The experience was always wonderful and I still remember most of what I ate there, even though it was a good few years ago. To me, Alice Waters's food philosophy makes perfect sense. Work with the farmers that produce your fruit and vegetables, the ranchers that raise the meat you cook, the foragers that pick the mushrooms and wild produce that is so precious. Together, work towards making sure that every meal you cook or eat is honest, important, a celebration. It is not complicated, nor expensive. That should be your standard.
To read some inside information about the 40th anniversary celebrations, have a look at David Lebovitz's blog post here. David is one of the many and illustrious alumni of the restaurant and writes a great blog at http://www.davidlebovitz.com/. Alternatively, if you prefer the mainstream media, have a look here for a news roundup of the event.
-t